 FlexiOH® Full Arm Immobilizer
Absolute washable orthopedic Immobilizer for immobilization in above elbow, at the elbow knob and at the inside of elbow tip.
INTENDED USE
Proximal of radius and ulna fractures
(Monteggia fractures, Galeazzi fractures)


Distal humerus fractures

Elbow fractures
(Supracondylar/Epicondyle fracture of humerus)

Mid shaft fractures of radius ulna FlexiOH® Full arm immobilizers are designed for immobilization in above elbow (supracondylar), at the elbow knob and at the inside of elbow tip. The Full arm immobilizer is engineered with new features designed to provide secure and comfortable support. Patients can do daily activities while wearing this immobilizer. For application of FlexiOH® full arm immobilizer, doctors need to apply it on the patient's hand with the zip and then cure it with the Rizycure® light device (recommended) or direct sunlight for around 5-10 minutes depending on the size of immobilizer. Once it is rigid , it will take the shape of the patient's hand for support during the treatment.
FlexiOH® Full Arm Immobilizer comes in 6 different sizes : XXS, XS, S, M, L and XL. All of the immobilizers vary in terms of palm, wrist, forearm circumference, maximum arm circumference, wrist to elbow length and elbow to upper arm length. For the best fit of FlexiOH® full arm immobilizer, taking the measurement of the patient's hand is necessary before application.
MEASUREMENT GUIDE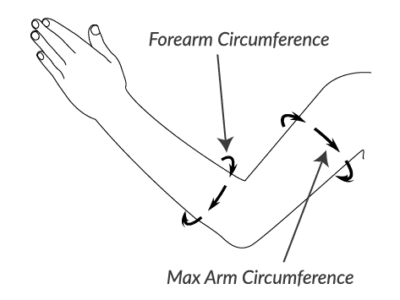 SIZE CHART (in cm)
Size vs Measurement
(Full Arm Immobilizer)
2XS
XS
S
M
L
Forearm Circumference:
11.5-15
15-18.5
18.5-23
23-26.5
26.5-30
Max. Arm Circumference:
12-14.5
14.5-18
22-26.5
26.5-30
31-36
* Above sizes fit better as per dimensions mentioned in the table.
* However FlexiOH® adapts to an oversize to a certain extend by stretchability.
* We advise healthcare professionals to choose the size as per patient's comfort.
APPLICATION PROCESS
FlexiOH® Full arm immobilizer application process is as follows:
Step – 1 : Choose the appropriate size from given chart
Step – 2 : Take the suitable size for the application
Step – 3 : Put full arm immobilizer under the hand
Step – 4 : First start zipping forearm zip over the forearm area
Step – 5 : Start zipping second zip over the elbow to mid-arm area
Step – 6 : Align the fracture part appropriately before curing
Step – 7 : Take fully charge RizyCure® Light Device
Step – 8 : Start the curing process near the palm by holding from both sides
Step – 9 : Expose all over the remaining area with RizyCure® light device
Step – 10 : Once it's rigid, tie a strap loop around the palm over immobilizer
Step – 11 : Hold the hand in correct position and let immobilizer achieve rigidity.
FlexiOH® provide ~35 % open area of skin to breathe, wash, and exposure to sunlight which all are necessary to maintain healthy skin.