The Portable Rechargeable Light Device
INTRODUCTION
RizyCure® is the handheld light system which is high intensity portable blue light, developed by OrthoHeal. RizyCure® is visible blue light device, specially designed to cure FlexiOH® – an innovative orthopedic immobilizer. It is very easy to use and has been made for the doctors' convenience.
One full charged, RizyCure® Light System can cure 2-3 FlexiOH® immobilizer in a row without recharging. Once it indicates half battery, you need to charge it again for ~60 minutes for uniform intensity*.

APPLICATION OF RizyCure® LED LIGHT SYSTEM
Use of RizyCure® Light System is to cure FlexiOH® immobilizer with high intensity uniform blue light, which gives deep and smooth curing. One needs to just expose the uncured region moving slowly for 5-10 seconds over every corner and region and make sure that it has been cured properly and became rigid. While curing, RizyCure® should be very near to the FlexiOH® surface (ideally <1 cm away).
Before using of RizyCure®, check the battery level indicator.

Press ON/OFF button to operate the Light.

Use only provided charger with RizyCure® Light System.

It is recommended that after curing 2-3 FlexiOH®, Charge again before using it.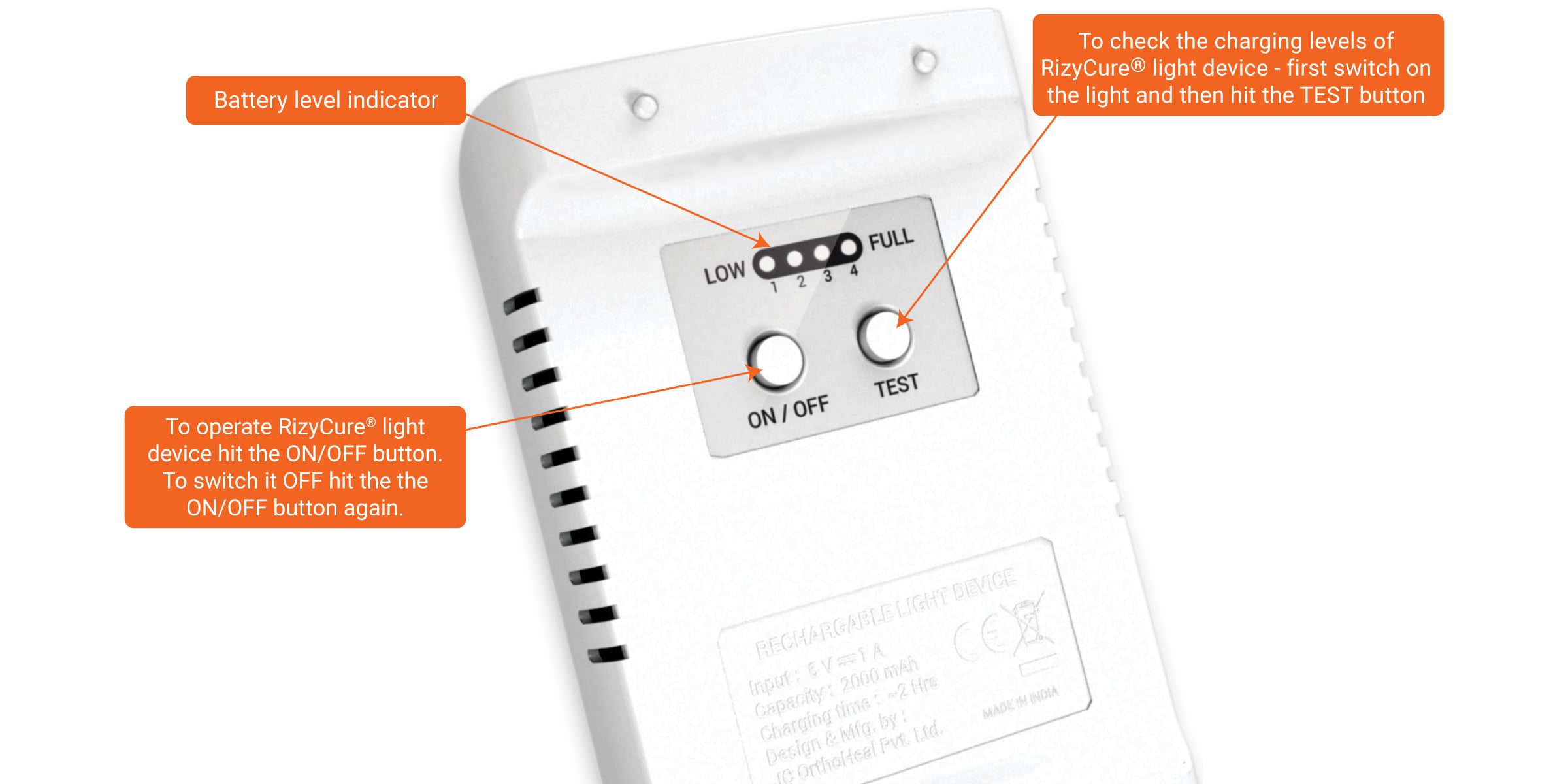 PRECAUTIONS
If you determine that the RizyCure® becomes hot or you observe change in color or shape, switch it off immediately. The device must not be used again and needs to be replaced or contact 'OrthoHeal Customer Care' at '[email protected]' for further guidance.

Do not use RizyCure® while connected to the charger.

Do not open the RizyCure® Light System or charger.

Keep away from children / Do not let children to play with this.

Use goggles while using RizyCure® to avoid eye fatigue.

In case of low intensity or discharged battery FlexiOH® can not be cured to full strength in given time.
SAFETY GUIDELINE
Before switching "ON" light, put on yellow color goggles provided with the RizyCure® Light system (These goggles provide eye comfort during curing process).

Do not see the light directly with naked eyes as it may create slight discomfort and blurring of vision for few minutes.
TECHNICAL SPECIFICATION
| | |
| --- | --- |
| Weight of light | 138 gm |
| Equipment class | Class I |
| Battery type | Li-ion 18650 3.7v/2000mAh |
| Battery charging time | Approx. 120 minutes / 2 Hrs. |
| Output Power | ~3 Watt |
| Light intensity | ~20-30 mW/cm2 |
| Light charger Input | 110V-240VAC,50Hz |
| Light charger Output | DC 5V-1Amp(max) |
| Protection from shock | Type B |
| Operating and Storage temperature | 0 to 104°F (0° to 40°C) 10% to 85% relative humidity(non-condensing)0.5 atm to 1.0 atm(500-hPa to 1060-hPa) atmospheric pressure. |
* Tested with 2A-5V USB adapter provided with the RizyCure® light device.