 FlexiOH® Short Leg Immobilizer
Absolute washable orthopedic Immobilizer for lower extremity fractures and soft tissue injury.

INTENDED USE
Lower leg fractures around ankle

Fractures of foot bone

Severe ankle sprains and strains or fractures.

Immobilize leg or foot muscles and tendons in place after surgery to allow healing.
FlexiOH® Short leg immobilizers are designed as orthopedic casting technology for lower extremity fractures and soft tissue injury. It has an built-in zip system which makes the application process very easy and comfortable. With unique FlexiOH® Technology, this short leg immobilizer gives better patient comfort along with breathability and washability. For application of FlexiOH® short leg immobilizer, doctors need to apply it on the patient's leg with the zip and then cure it with the Rizycure® light device (recommended) or direct sunlight for 8-10 mins depending on the size of immobilizer. Once it is rigid , it will take the shape of the patient's leg for support during immobilization..
FlexiOH® Short Leg Immobilizer comes in 6 different sizes : XXS, XS, S, M, L and XL. All the casts vary in terms of calf circumference, above ankle circumference, head of meta-tarsal circumference and foot length. For the best fit of FlexiOH® Short leg immobilizer, taking the measurement of the patient's leg is necessary before application.
MEASUREMENT GUIDE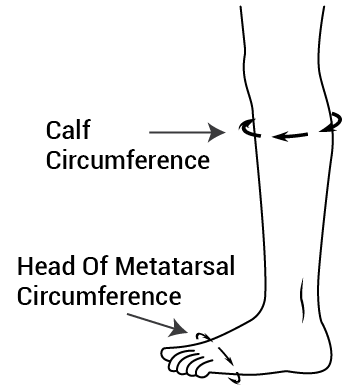 SIZE CHART (in cm)
Size vs Measurement
(Short Leg Immobilizer)
2XS
XS
S
M
L
XL
Calf Circumference:
18-22
22-25
25-30
30-40.5
40.5-45
45-49
Head of Metatarsal Circumference:
11-13
13-15
15-18
18-22
22-25.5
25.5-28
* Above sizes fit better as per dimensions mentioned in the table.
* However FlexiOH® adapts to an oversize at certain extend by stretch-ability.
* We advise healthcare professionals to choose the size as per patient's comfort.
APPLICATION PROCESS
FlexiOH® Short Leg Immobilizer application process is as follows:
Step – 1 : Measure the circumference of Calf, ankle and foot and Choose the appropriate size from given chart
Step – 2 : Put the ankle at the center of the immobilizer as per shown in the image
Step – 3 : Wrap the immobilizer around the foot and close the zip.
Step – 4 : Cover the malleoli with ankle cushion pad provided with the immobilizer
Step – 5 : Close the other zip over the shin and align with the foot zip in a straight line
Step – 6 : Adjust the the immobilizer edges over the ankle cushion properly before curing
Step – 7 : Take Fully charged RizyCure® light device
Step – 8 : Start curing process around back of the foot, make sure there should not be any gap between foot and immobilizer
Step – 9 : Expose light device all over the foot area until it's harden
Step – 10 : Now start exposing immobilizer around the ankle and mold the FlexiOH® as per requirement
Step – 11 :Start curing remaining area around the calf and make proper contour
Step – 12 :Apply the cast shoe after curing process for better comfort and stability
FlexiOH® Short Leg Immobilizer provide ~45 % open area of skin to breathe, wash, and exposure to sunlight which all are necessary to maintain healthy skin.